Charcoal Powder Malaysia

Pure & Premium Quality Charcoal Powder Malaysia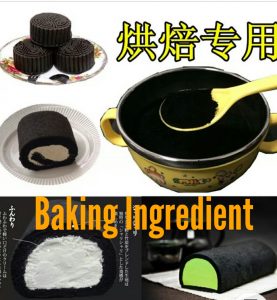 By Selected Bamboo Raw Material
Net Weight:20gm
Price:RM15
Storage:
Keep at room temperature or fridge,avoid direct sunlight.
Uses For: Macaron,Cream,Bread,Cake,moon cake or more…
Advantage And Benefit:
Regulate Blood Pressure, Antioxidants,Phytonutrients,Fiber.
Bamboo Charcoal CupCake Resipe
3 cups cake  flour or low protein flour
3 cups custard sugar (or less)
½ cup cornstarch
½ cup cocoa powder
1 tablespoon baking soda
1½ teaspoons baking powder
1½ teaspoons salt
4 large eggs
1½ cups buttermilk
1¼ cups water
½ cup corn oil
1 teaspoon vanilla extract
10gm Charcoal Powder
Instructions
Prepare cupcake mould or (paper cup 12pcs)
Mix together flour, sugar, cornstarch, cocoa powder, baking soda, baking powder, and salt in a stand mixer with low speed until combined.
Add eggs, buttermilk, warm water, oil, vanilla, and charcoal powder. Beat on a medium speed until smooth. This should take fews minutes.
Divide batter among the prepared mould.
Bake for 30-35 minutes until the cake meets the toothpick test. (stick a toothpick in and it comes out is dry).
Cool down and rest for 15 minutes and then turn out the cakes into the racks and allow to cool completely before frosting.
Make the frosting, beat together 1 cup butter and 200gm cream cheese until fluffy.(can add in baker & flavorist Food colouring on this step) Add in 2 drop vanilla extract. Beat until combined. Beat in 60gm powdered sugar (Or more) until frosting is smooth.
Assemble and frost the completely cooled cake.