Bunga Telang/Butterfly Pea Flower

Bunga Telang called in english is Butterfly pea flower or blue pea flower,Bunga Telang uses In Malaysian Famous Nyonya cook as nyonya kuih,pulut inti,pulut tatai,nyonya chang,blue rice nasi lemak,nyonya dumpling and nasi kerabu.Other than that we highly recommend baker use blue pea flower powder to instead  artificial coloring or coloring extract.Butterfly pea flower can use in all purpose with blue coloring in baking also,example as: cake, pie , bread , bun or bao , mantao ,macaron ,cake topping cream , Biscuit or edible art.Its easy and convenience to dye for cake decorating , fondant or cutie art bread.
Popular Nyonya Food In Malaysia
Nasi lemak is top popular food in malaysia,but the picture shown above not normal nasi lemak,it's called NYONYA Nasi Lemak.
Nyonya nasi lemak is founded in malaysia state melaka and using bunga telang/butterfly pea flower cook the rice mix with coconut is very amazing taste and prefect aroma enough.
Of course nyonya nasi lemak not only the rice,is include sambal sotong, fried chicken, balado fish and balado prawn.
Butterfly Pea Flower Tea Benefits For Body

Highly recommend good benefits to body,butterfly pea flower tea releases antioxidants much like green tea. Antioxidants help your body lower risk of infections is great for your heart health and it's ability to preserve beauty. The blue flower has been studied to show that it helps combat wrinkles and protects your skin from premature aging.The tea helps reduce inflammation in the body and helps brain health while keeping you feeling energized.
More benefits from butterfly pea flower no matter is dry or fresh flower:
A.Good health of the brain,increase in high level of Acetylcholine to our brain.
B.Having anti-glycation in the tea make it benefits for inhibiting harm effects of age,Acetylcholine decreases with progress in age causing loss of memory.
C. Improved vision promote blood circulation helping the eyes adjust to changes in light conditions,cure many eye ailments,the flower are used to treat eye infections like (red eyes).
D. Blue pea flowers trigger antioxidants good in decrease stress, relax the whole body muscles.
E.Fight against cancers by penetrating the cancer cell membranes and inhibit growing,the flower plant is one of that contain cyclotides.
F.Good for Skin and Hair,blue pea tea has anti-Glycation and can prevent premature aging and dealt with proanthocyanidins present in the tea that boosts collagen produce.Most of the shampoo and conditioner ingredients from butterfly pea flower,the flower  properties thats  prevents grey hair, reduces hair fall and promotes hair growth.
Butterfly Pea Flower Extra Lemon Juice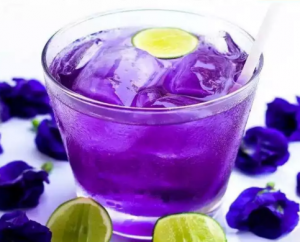 More tips for the blue tea,its magic when add some lemon juice.The colour will become purple is natural and without any side effect and also have all the same benefits of health.
blue pea flower different type
We found two different type of butterfly pea flower in malaysia,the different not colour,is the flower petals,look at the picture above.Ofcourse the benefit is same,but its very costing when wanna to cook with blue rice or make blue tea or others because less petals have to use more flower.
No.1 Natural Baking Coloring,Spices & Herbs,Fruit Color Chocolate In Malaysia
Reasonable and affordable price Bunga telang(butterfly pea flower) in No.1 Online store Natural Food coloring For Baking in Malaysia,Our product 100% pure and premium quality main product as Matcha powder,Butterfly pea flower or powder,purple potato powder,sweet potato powder,red yeast rice powder(instead beet root powder),Pumpkin powder,cocoa or cacao powder and Dark Cocoa powder.Our concentrate buy online business Baking & Cooking Spices in malaysia and wholesale supplies.
product for cooking or as celery powder,tomato powder,mushroom powder,seaweed powder,mixed herb powder,basil powder,sage powder,rosemary powder,thyme powder,szechuan pepper powder,mixed peppercorn,red or green peppercorn,ghost pepper powder,chili padi powder,or more…