ROSE PETALS MALAYSIA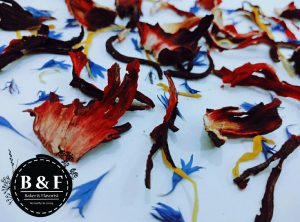 ROSE PETALS
FRENCH ROSE FLAKES
ROSE POWDER
ROSELLE POWDER
CORNFLOWER
MIXED FLOWER PETALS
Rose petals malaysia suppliers based in kuala lumpur, supply rose flower product as ROSE FLOWER WHOLE / PETALS /  FLAKES / ROSE POWDER FOAM/MIXED FLOWER PETALS/CORNFLOWER PETALS, its safety edible flower are fully cleaned and sterilizing.
Edible Rose Petals Usage
            
There are many ways to work the flavour of rose into your Baked goods as bakery, cake decoration, desserts , Coffee latte topping or more others cookings or drinks .

Floral flavour by rose petals mixing with a bit of sugar in the blender. Topping on cookies, scones or muffins for a slightly sweet.
How to differently edible rose flakes or non-edible rose flakes?

We can see both type of rose flakes in the market selling, either one of them is pure petals flakes and petals with flower green bottom leaf . 
When you see the Pure petals flakes very clean and the size is balance without big and small different, that is food processes in cleaned , sterilizing by manufactory and edible decorating in cooking and baking.
Most of the rose flakes with green leave and unbalance size, that is broken rose flower collect in the farm , its suitable for bathroom such as; spa , soak leg,petals aroma bag or more etc…

French Rose Flakes shown on picture as above; Flakes size  are filter by machine fix around (1-2mm) is nice to have around for cocktails topping and to infuse into baked goods,quality French Rose Flakes with aroma smell.
         
Rose tea help reduce the risk of dysentery,gastroenteritis and constipation.Rose flower tea is a great way to relax at busy day after work, as it can calm the central nervous system, reducing the chance of depression and anxiety.

There are many brands who are creating makeup that is richly pigmented, applies beautifully by Rose Powder.
Rose Petals Powder is ideal for cosmetics, toiletries and creative products such as soaps, bath salts, lotions, creams, color cosmetics, makeup powders, candles and etc.

ROSE PETALS POWDER MASK
Rose Powder Mask hydrates and tones the complexion to restore radiance and suppleness to all skin types.Rose petals that literally melt into the skin for felt skin was moisturized, softened, smoothed, and soothed,nourished and visibly improved the appearance of  skin .

The Benefit Of Rose Flower
Rose Petals are one of our favourite ingredients for giving a natural boost to your health and beauty.The Benefits of Rose Flower is Healthy Nutrition , their nutritional value is limited and their calorie count is low. However, the petals do contain some vitamin C,  skin cells against free radicals that cause of skin aging, and help to fight back by increase collagen . for bouncy, firm skin.
 Hope you are enjoy to shop with us.