Natural Ingredients For Red Velvet Cake
How to bake natural ingredients for red velvet cake and without artificial colouring?
Ingredients
3 cups cake  flour or low protein flour
3 cups custard sugar (or less)
½ cup cornstarch
½ cup cocoa powder
1 tablespoon baking soda
1½ teaspoons baking powder
1½ teaspoons salt
4 large eggs
1½ cups buttermilk
1¼ cups water
½ cup corn oil
1 teaspoon vanilla extract
Instructions:
Prepare 9-inch cake mould.
Mix together flour, sugar, cornstarch, cocoa powder, baking soda, baking powder, and salt in a stand mixer with low speed until combined.
Add eggs, buttermilk, warm water, oil, vanilla, and red yeast rice powder. Beat on a medium speed until smooth. This should take fews minutes.
Divide batter among the prepared mould.
Bake for 30-35 minutes until the cake meets the toothpick test. (stick a toothpick in and it comes out is dry).
Cool down and rest for 15 minutes and then turn out the cakes into the racks and allow to cool completely before frosting.
Make the frosting, beat together 1 cup butter and 200gm cream cheese until fluffy.(can add in baker & flavorist Food colouring on this step) Add in 2 drop vanilla extract. Beat until combined. Beat in 60gm powdered sugar (Or more) until frosting is smooth.
Assemble and frost the completely cooled cake.
Combine all the ingredients and 20gm or more of red yeast rice powder , suggest to add in 20gm – 30gm is nice.
The batter with light red colour after add in red yeast rice powder.(Bake 200 degree in 30-35 minute)
Red yeast rice powder will turn to red after bake.(Cut slide about 1 inch)
We use a set of love shape cutter cut into few size,(can make big and small size love shape cake in  9inch )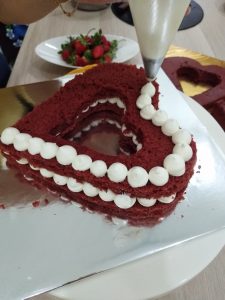 Decorate 3 slide layer with frosting cream,and fruit topping (we choose strawberry & blueberry)
Done!!!